Specialist Cellars HQ celebrate Pancake Day the only way they know how: with wine and pancake recipes!
Happy Pancake Day! One of our favourite times of the year here at SC HQ, because it just means we get to eat pancakes ALL DAY LONG, and match them with some kickass wines from our New World producers. In this blog, we dive into our top picks to drink with those delicious buttery flavours. Need some inspo? Have a scroll x
Shrove Tuesday (aka Pancake Day) offish meaning:
'Pancakes are associated with Shrove Tuesday, the day preceding Lent, because they are a way to use up rich foods such as eggs, milk, and sugar, before the fasting season of the 40 days of Lent.'
Well you learn something new everyday right? In our world, Pancake day just means an excuse to pair this delish stack for breakfast, lunch and dinner. But we understand that not everyone needs pancakes 24/7 (boraaaang!)
For those of you struggling to pair your liquid with your solids, we have you sorted with a sweetness takeover! We're shining a spotlight on our Aussie wineries, as they face a pretty tough time with rising taxes from China, leading to a huge loss of export revenue. But that just means we can get more and more of these kickass labels on our shelves, and consequently on your doorstep! We're here to support them as much as humanely possible, so if you want to read more info on this ongoing issue, then check out this article from the BBC here.
BACK TO BUSINESS.
What we're drinking this Shrove Tuesday, and our general thoughts in matching desserts, with equally balanced wines.
Let's first get rid of the stereotypes.
'You can only drink dessert wines with sweet food or desserts'
BLURGH. Don't say this in our proximity please.
It does seem understandable to resonate a 'dessert wine' with sweet food, but this is not the case! A lot of wines can be paired perfectly with these sugar treats, and we're here to help you choose.
First up:
Brokenwood Hunter Valley Sémillon 2019:
Classic Hunter Valley Sémillon aromas of talc, citrus rind, and notes of orange blossom in the background. A superb colour with expansive flavours of lime pith supported by zesty citrus acid. This wine has a great balance and finish.
Giant Steps Yarra Valley Chardonnay 2019:
Delicate, exuberant yet refined Chardonnay. Citrus, sorbet and stone fruit notes are coupled with caramel and almond aromas. Acid structure is fresh, linear and fine.
Innocent Bystander Yarra Valley Moscato 2019:
Delightful, uplifting & pink – this Moscato is all about a good time. Crisp acid, hints of orange peel & natural sweetness create the perfect balance between rich & fruity flavours.
P.S this bottle is just as cool in real life as it looks online (if not MORE PINK.)
Vasse Felix Chardonnay 2018:
Classic Vasse Felix style Chardonnay. Citrus & stone fruit aromas immediately jump out of the glass. Textural & complex with fantastic mouthfeel. Lemon & honey flavours on the palate. Balanced, structured acid. And the best news? It's on sale for £20.00 for the whole month of Feb – uhuh honey!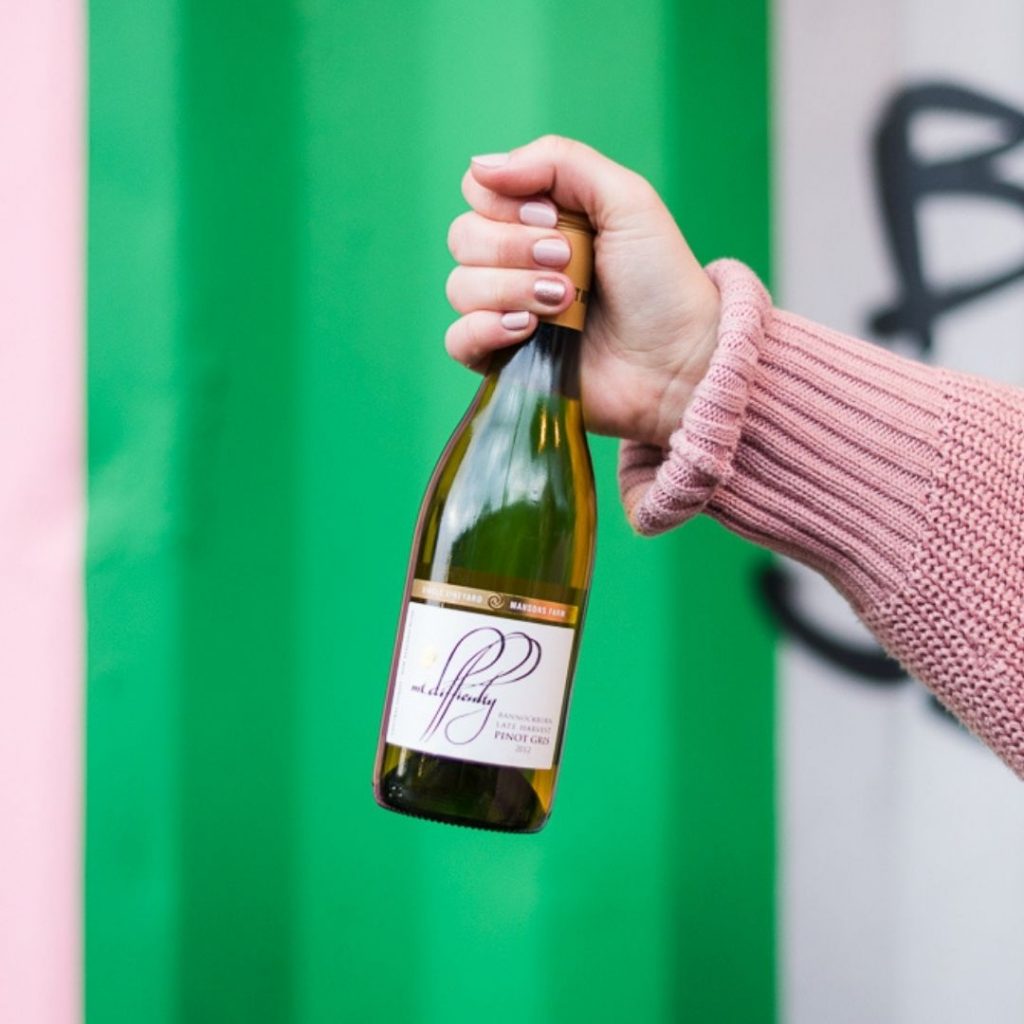 If you REALLY want a dessert wine, we can't say no to this beauty from our pals over in Central Otago, New Zealand. Thank you Mt Difficulty!
Intense fruits burst through onto the palate with more tropical flavours of mango and pineapple with the citrus and stone fruit flavours. A fresh acidity cuts through the residual sugar to stop it from being cloying and leaves a sweet but crisp impression on the finish.
Now, the all important pancake recipes
Chunky Money Pancakes (creds to Sarah's grandma)
Ingredients (makes around 5 depending on portion size)
1/4 cup of Greek Yoghurt
1/2 cup of rolled Oats
1/2 teaspoon Baking powder
1/2 ripe Banana
2 Egg whites
1-2 tablespoon Almond Milk (don't hate it till you try it!)
1/2 teaspoon Vanilla extract
To make:
Blend ingredients until oats are broken down and the mixture looks a bit frothy.
Cook on a skillet and flip when bubbles appear.
Top with your favourite ingredients (our go to is Nutella and Strawberries obvi!)
Crêpes – the Nigella way (aka the only way):
For the batter:
300g Flour
2 Eggs
650ml Milk
30g Butter melted plus a little extra for frying
To make:
Mix the flour, milk, and egg in a bowl, then stir in the melted butter.
Heat up a frying an, pour your crêpe mixture, give it a god swirl and flip!
Decorate with anything and everything. For a more savoury crêpe, we love a ham and cheese combo.
Turmeric & Courgette Pancakes, creds to Deliciously Ella
Into the healthy stuff? Not to worry. We always have something extra under our sleeves! The below recipe is for an equally delicious recipe from health guru, Ella Mills.
Ingredients (makes two large pancakes)
For the batter:
Olive Oil
1 small Red Onion
1 Garlic Clove
150g Gram Flour
Handful of Coriander
1/2 teaspoon Cayenne pepper
Juice of 1 Lime
1 small Courgette
For the Almond & Avocado Pesto:
1 ripe Avocado
100g Almonds
25g Basil
Juice of 1 Lemon
Sea Salt
2 Garlic Cloves roasted
5 tablespoons of olive oil
5-6 tablespoons of water
To make:
Place all of the pesto ingredients (except the water), in a blender or food processor with a pinch of salt and blend until it all comes together. Add a tablespoon fo water at a time until you reach your desired consistency.
For the pancakes, place a large frying pan over a medium heat and add a drizzle of olive oil and a pinch of salt. Once the pan is warm, add the onion and garlic and cook for 5-10 minutes, until soft.
Place the gram flour in a bowl and slowly pour in 200ml of water, whisking until the mix is smooth and there are small bubbles on the surface. Stir in the coriander, spices, lime juice and a pinch of salt and give it a final whisk, then stir in the cooke onion and garlic and the grated courgette.
Place the frying pan back on a medium heat, adding a drizzle of olive oil so the batter doesn't stick. Pour in half of the pancake mix and let cook for around 2-3 minutes, then flip and cook on the other side.
To serve, place the pancakes on two plates, pile high with pesto, then finish off with your desired toppings (we love a tomato moment, but go crazy!)
Or, you could scrap all this effort, and just pull a Mel and grab a packet of pre-made pancakes and whipped cream and nosh on that all day long (we're not judging)
Happy Pancake day all x