Dive into two of the most talked about white grape varietals, New Zealand Sauvignon and Chardonnay…
So, I guess it's time to bring out the white wines right? The weather is warming up, aka wines are in the fridge and no longer in cupboards, so bring on the Sauvignon and Chardonnay am I RIGHT?
History behind New Zealand Sauvignon Blanc & Chardonnay
First, a little bit of history behind the New Zealand Sauvignon and Chardonnay…
The first marketable quantity of New Zealand Sauvignon Blanc was produced in 1974, at Matua Valley's first winery site in Swanson, Auckland. But it wasn't until Montana (now Brancott Estate) planted Sauvignon Blanc vines in Marlborough that the variety began to gain notoriety.
On the other hand, Frank Thorpy records that Pinot Chardonnay wine was first produced by Denis Kasza at the Te Kauwhata viticultural research station, probably from the 1958 or 1959 vintage. In 1959 it was thought to be the best New Zealand white wine a group of interested Auckland wine people had tasted.
But what about the facts and figures?
Chardonnay was actually the most widely planted grape until Sauvignon Blanc surpassed it in 2002, found in a variety of styles and used for sparkling wine. Many of the Sparkling wines you can see on our site are made from Chardonnay, including: Akarua Brut and Nautilus Cuvée.
If you're keen bean and want to learn more about the different tasting notes and grape profiles of New Zealand's regions, then have a scroll. Or if you want to skip the faff and drink the wine, then shop White wines below.
Stripping back the faff… what's a typical Chardonnay?
Chardonnay can taste different, depending on where it grows and how it's made. But typically, Chardonnay is a dry, medium to full-bodied wine with moderate acidity and alcohol. Its flavours range from apple and lemon to papaya and pineapple, and it also shows notes of vanilla when it's aged with oak.
And a typical Sauvignon Blanc?
Sauvignon Blanc is a white wine grape variety that is most often used to produce dry white wines. Light and refreshing, it's unique in that its flavour sets it apart from most other white wine grape varieties. Sauvignon Blanc tasting notes are most commonly associated with tropical, tree and citrus fruit.
Don't want to take our word for it?
Let's hear what the critics are saying…
"I was presented with proof of my theory that the white wine grape of which New Zealanders should be most proud is not Sauvignon Blanc but Chardonnay." Jancis Robinson
"Unlike Central Otago, Martinborough has many strings to its oenological bow. You don't have to look far to find some of the country's best Chardonnay, Riesling, Pinot Gris and Sauvignon Blanc" Bob Campbell MW
Need further convincing? Have a scroll below for ALL the best bottles New Zealand Sauvignon and Chardonnay we have to offer…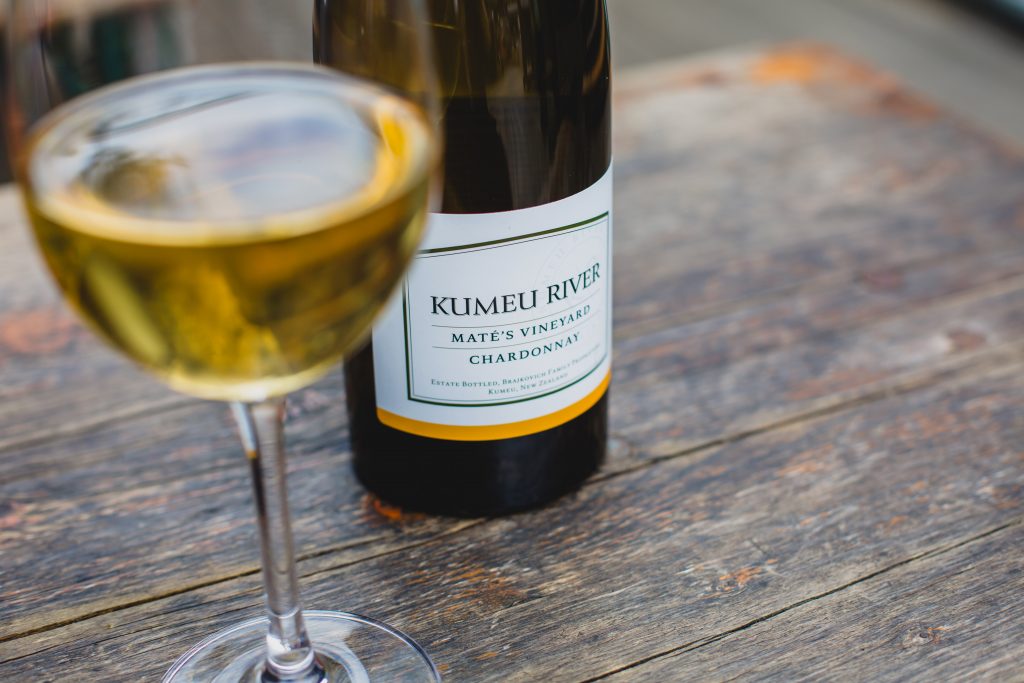 New Zealand Sauvignon and Chardonnay Wines
Auckland:
In many ways the New Zealand wine industry began in Auckland. Croatian immigrants, escaping the depression in Europe, settled in West Auckland in the 1930s and 40s. Plentiful hours of sunshine means Bordeaux style wines and Chardonnay flourish here.
Kumeu River hit the ground running when it came to Chardonnay's, and really escalated the growth of New Zealand white wine onto the centre stage. If you want to learn more about how they did this, read our previous blog 'A seat at the table'
Auckland Chardonnay
"Refined and fruit-driven, New Zealand Chardonnay is mouth-filling, with concentrated citrus and bright tropical fruit" New Zealand Wine Society
For those of you who see the word 'Chardonnay' and get shivers down your spine, we are here to change your mind. The negative connotations around this award winning grape: oily, overwhelming, heavy, can be equally juxtaposed by a light, buttery, smooth wine. You just have to try the right one!
Lucky for you, you don't need to search far and wide to find the gem that is Kumeu River. Hitting the world by storm in a blind taste test that was completed in 2015, this Croatian family owned winery was highly rated amongst white burgundy. Now, everyone wants a piece of the Brajkovich pie, and we see why.
During the 1990s, plantings of this internationally fashionable variety exceeded those of every other grape, today top quality Chardonnay can be found in every region. Known as 'the winemaker's grape' due to its relatively neutral fruit profile and adaptable nature, Chardonnay lends itself to nearly all winemaking tricks of the trade.
Kumeu River Mate's Chardonnay 2018. Delicate distinctive aromas of pear and citrus. The mouth-filling texture and length of flavour indicate this wine will age well. One of the world's greatest Chardonnays.
Auckland Sauvignon Blanc
The Man O' War vines on Waiheke Island were planted in 1993, however this iconic New Zealand winery has a history that dates back to the country's discovery.
This is fresh and tangy Sauvignon Blanc from Waiheke Island's largest and most influential producer and what a success story it is. This charming wine has become a staple of the Auckland restaurant and upmarket cafe set and one glass will immediately make it clear why.
Central Otago:
Otago is the country's fastest-expanding wine region and at 45° south it is home to the most southerly vineyards in the world, with the most extreme climatic conditions and dramatic landscapes you could imagine. Renowned for its exquisitely balanced and nuanced styles Otago became the first region in the world to rival Burgundy in Pinot Noir production.
Central Otago Pinot, like Marlborough Sauvignon Blanc, may not be the subtlest wine in the world but it is easy to like almost as soon as its bottled.
Central Otago Chardonnay:
It would be rude not to mention our fan favourite; Te Kano Chardonnay 2019. A refined and elegant Chardonnay with aromas of white peach, citrus and flint. Ripe peach, pineapple and nectarine flavours expand into complex biscuit and toasty oak, finishing crisp and dry.
Central Otago Sauvignon Blanc:
Mt Difficulty Sauvignon Blanc 2019. Gravely, citrus driven & bone dry goodness. Lemon, lime & melon flavours create a linear, acid-ripe palate. Great for long drinking in the sun!
Gisborne:
Gisborne is where Captain James Cookfirst stepped ashore in New Zealand in1769, but it was the 1850s before the first vines were first planted, and now it'sNew Zealand's third largest wine region. The soil is composed predominantly of loam, silt and clay, which favour aromatic varieties such as Gewürztraminer and Chardonnay.
Gisborne Chardonnay:
"Its signature variety, Chardonnay, is now less sought after than Sauvignon Blanc and Pinot Gris" Jancis Robinson
Warmer but wetter than Hawke's Bay, especially in autumn, Gisborne grows almost exclusively white grapes on relatively fertile loamy soils generally picked two to three weeks before Hawke's Bay and Marlborough.
Millton Opou Chardonnay 2018: Floral aromas of orange and white blossom combine with notes of honey and acorn. Creamy and rich on the palate, but slightly more refined than other Gisborne Chardonnays.
Hawke's Bay:
The oldest wine region and the second largest. Complex soil compositions and exciting new varieties contribute to their success. In 2001, the Gimblett Gravels Association introduced classification rules that are governed by soil type. Gimblett Gravels was the first district in the New World to give their wine and region this designation.
Hawke's Bay Chardonnay:
Craggy Range Kidnapper's Chardonnay 2018: Pale lemon straw with faint green hue. Complex and refreshing aromatics of melon rind, sea spray, honeysuckle and a hint of beeswax. Very precise across the palate with ripe citrus and subtle oak highlights and a long, texturally dry and almost saline-like finish.
Hawke's Bay Sauvignon Blanc:
Te Mata Cape Crest Sauvignon Blanc 2019: Elegant, textured and beautifully balanced with refreshing citrus fruits and subtly spice from its time in oak. On the nose we are greeted with guava, lily flowers, fennel and classic gooseberries. The addition of Sémillon ads depth and a lovely creamy finish. This is an excellent food wine and one that will develop nicely in the bottle.
Marlborough Wines:
Resting to the east at the tip of the South Island, Marlboroughs enjoys long drawn out daylight hours, coupled with a clear, cool atmosphere at night. This union results in a long, leisurely ripening period, greatly contributing to the grapes intensified flavours while the chill of the night retains the acidity levels.
Marlborough Chardonnay:
Chardonnay, on the other hand, enlivened by the country's trademark zestiness, was initially New Zealand's other calling card, but it has definitely been overtaken in terms of vineyard area, by Pinot Noir. However, there are still pretty top notch Chardonnay's produced in Marlborough, our favourite being Dog Point.
Dog Point Chardonnay 2018 Aromas of flint, lemon peel & ripe citrus fruits framed by toasty mineral notes. Balanced with seamlessly integrated oak, vibrant acidity & focussed texture.
"It was Sauvignon Blanc that made the world take note of New Zealand" Jancis Robinson
Marlborough is New Zealand's largest and most famed wine region. Early successes with the Sauvignon Blanc varietal range far and wide, landing NZ on the international wine map. With vintners interest in varied terroir and varieties escalating the recognition of the region globally adding fuel to the fire. As New Zealand's largest wine region, housing around 77% of the country's vines and producing over 75% of the Sauvignon Blanc, Marlborough has an upward trajectory and an exciting future.
A cool climate is needed if the wine is to be lively, and the cool, bright, sunny, and windy northern tip of the South Island seems to have been designed to intensify the scarcely subtle twang of Sauvignon.
Our top pick: New Press Sauvignon Blanc 2019, duh.
Martinborough:
Although a small region, there's no doubt about the fact Martinborough packs a punch. Producing some of New Zealand's most acclaimed wines and garnering a large following. The region's first vines were planted back in 1883, but it wasn't until 1970 that heads started to turn and Martinborough was competing on the world stage.
Martinborough Chardonnay:
Many Chardonnay's produced in Martinborough burst with citrus flavours, leaving a very clean and precise finish. We love the unforced feel of these wines, no overt oak or fermentation characters; a great representation of the Martinborough Terrace terroir.
It has serious concentration and drive with tight, bright acidity. Enchanting roses, touch of spice & roasted fennel. Enticing, freshly baked apple pie scent! Perfectly balanced.
Martinborough Sauvignon Blanc:
Craggy Range Te Muna Road Sauvignon Blanc 2019 Pale lemon straw. Ripe Sauvignon Blanc aromatics with notes of white peach, citrus blossom, honeysuckle and kaffir lime. Harmonious and rich on the palate with ripe citrus and fresh apple and a layered, dry, textural feel.
Nelson Wines:
A versatile region, producing freshly herbaceous Sauvignon Blanc and sturdy, rich Chardonnay. Nelson has a unique typography, which sees it enveloped by mountain ranges to the west, south and east. These ranges protect the sites from the prevailing westerly winds, moderating the temperature and providing a calm.
Nelson Chardonnay:
Our Chardonnay top pick now and forevermore: Neudorf Rosie's Block Chardonnay 2018 Distinguished & vibrant with a distinct nutty & citrus palate. Rich, yet refined with great mouthfeel, crisp complexity & persistent finish.
Nelson Sauvignon Blanc:
Seifried Aotea Sauvignon Blanc 2019 Fleshy, pungent & expressive. Fruit bomb of flavours boasting passionfruit & peaches with herbaceous characters too. Gentle acid & minerality.
North Canterbury:
New Zealand's youngest wine region. This cool climate area enjoys a long steady ripening period.The infamous northwest wind dries out the vine canopy, helping minimise the risk of disease and the cooler nights contribute to good flavour intensity and natural acidity. As a wine region, it shapes a different course from most of New Zealand, making some of the most Burgundian of the country's Pinots and Chardonnays, believing in its Rieslings, and leaving Sauvignon Blanc in fourth place.
Because we don't have any Sauvignon Blanc's from this kickass (and new) region, we though we should slip in a fan favourite here at SC.
North Canterbury Chardonnay:
Black Estate Home Chardonnay 2019. A complex, enticing and natural bouquet of Chardonnay. Aromas of peaches and grapefruit, citrus pith and lees complexity.
There's a core of minerality before the aromas of apple, quince and a floral tea layer emerge. A whisper of elderflowers begins to show as well. On the palate – dry, weighty, varietal and loaded with texture, flavour and intrigue.
Fancy more info on New Zealand Sauvignon and Chardonnay?
P.S if you've gotten this far, we may as well let you into a top secret… All of our Chardonnays and Sauvignon Blancs will be on sale for 20% from this Saturday to Monday 8am! You've been given the first warning, however, there might be a few more coming…